Nguyen Thi Hong, Deputy Chairwoman of the People's Committee of Ho Chi Minh City has planned four price subsidised programmes for the city for 2012 and for the next Tet Lunar New Year in 2013.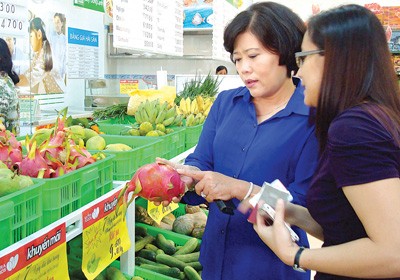 Nguyen Thi Hong, deputy chairwoman of HCMC People's Committee, checks goods at Satrafood store in Tan Binh District (Photo:SGGP)
This year during Tet, the price subsidised programme attracted 49 domestic businesses with many more products.
The city now plans to implement four price subsidised programmes that will cover essential food items, medicines, powdered and fresh milk and study material.
In addition, the city will continue to subsidise nine food items, which will be offered at lower than market rates, namely: rice, sugar, cooking oil, meat, poultry, processed foods, eggs, vegetables and seafood.
The city will launch a price subsidised programme for 13 domestically produced medicine categories comprising of 70 items.
The price subsidised medicine include antipyretics, pain relievers, antibiotics, vermifuge; medicines for treatment of diarrhoea, stomach ache, cough, cardiovascular problems, rheumatism, diabetes; anti-allergy and anti-inflammatory drugs; and eye drops and vitamins.
Medicines listed on the programme must be domestically produced and meet quality standards and doctors will also be encouraged to prescribe domestically made medicines to make them affordable for low income patients.
Deputy Chairwoman Hong said that besides medicines, the city will also launch price subsidised programmes for food products, powdered milk and school material for the new academic year 2012-2013.
The city is determined to create favourable conditions to support enterprises participating in the programme. Businesses participating in the programme will be eligible for interest-free loans, Hong added.
The price subsidised programme has become an effective price regulatory tool over the past few years and helped stabilise prices of essential goods in localities that earlier experienced speculation that pushed up prices.
Related article:
City plans price subsidised programme for 2012