The Department of Industry and Trade in Ho Chi Minh City said on April 5 that 48 businesses will take part in four price subsidised programmes from April 1, 2012 to March 31, 2013.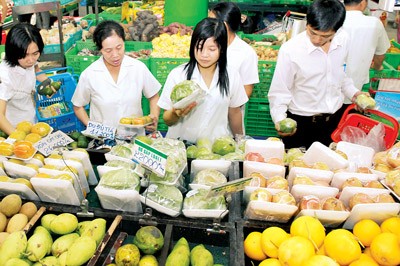 Buyers at a supermarket in Ho Chi Minh City (Photo:SGGP)
Accordingly, the city will spend VND288.6 billion (US$13.9 million) to implement the four price subsidised programmes.
The money will mostly be given as interest free loan to 48 participating businesses so that they can stock and sell rice, meat, sea foods and processed foods, eggs, cooking oil, sugar and vegetables, at prices lower than in the market.
Businesses dealing in rice, sugar, cooking oil, poultry, processed foods, vegetables and aqua products will sell their products about 5-10 per cent less than market retail price.
The city now plans to implement four price subsidised programmes that will cover essential food items, medicines, powdered and fresh milk and study material.
In addition, the city will continue to subsidise nine food items, which will be offered at lower than market rates, namely: rice, sugar, cooking oil, meat, poultry, processed foods, eggs, vegetables and seafood.
The city will launch a price subsidised programme for 13 domestically produced medicine categories comprising of 70 items.
The volume of goods in the price subsidised programmes will meet 25-30 per cent of market demand, an increase of 15-30 per cent from last year.
Le Ngoc Dao, deputy director of the city Department of Industry and Trade said that 29 out of 48 participating businesses that do not receive interest free loans, will still pledge to supply enough goods for the programmes.
The city has increased the number of retailers offering products at subsidised rates to 5,000 and added five more supermarkets.
This year, the department will continue to implement the price subsidised programme in outlying districts of HCMC, to meet rising demand among suburban residents.
Leaders of several communes in suburban districts said that earlier residents did not pay attention to the price subsidised programme but have now changed their mind.
The price subsidised programme has become an effective price regulatory tool over the past few years and helped stabilise prices of essential goods in localities that earlier experienced speculation that pushed up prices.