Nguyen Thi Hong, deputy chairwoman of the People's Committee of Ho Chi Minh City, called the city's price subsidized program a success as it has achieved its aim in supplying goods in the market at much more affordable rates.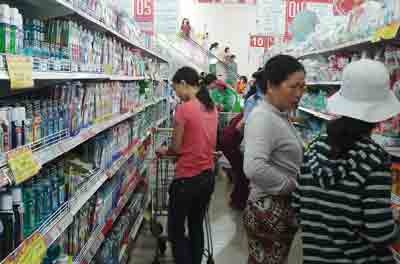 Shoppers at the Big C supermarket (Photo: Anh Quan)
Hong was discussing the price subsidized program at a meeting in preparation for the forthcoming Lunar New Year. She said that after four months since its implementation, the price subsidized program had yielded great and expected results.
Prices of commodities in supermarkets and traditional markets have remained stable. The bigger supermarkets like Co-op Mart, Big C, Lotte Mart and Maxi Mark said that suppliers had not asked for an increase in any of the commodity prices either.
Ho Chi Minh City will continue to lower prices of commodities under the price subsidized program during the city's "Promotional Program Month" in September. Enterprises participating in the price subsidized program are planning to stockpile for the coming Tet season (Lunar New Year).
From now until the Tet season, the city plans to open more stores in industrial and processing zones and remote districts aimed at bringing subsidized goods closer to the people living in far off places.