Starting today, access to several roads will be restricted to allow for road construction projects, according to the city's Department of Transport and Public Works.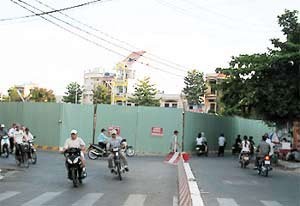 A road construction work in Ho Chi Minh City

Travel on Phan Dinh Phung Street in the section between Huynh Van Banh Street to Kieu Bridge in Phu Nhuan District is restricted to two-wheeled vehicles registered to local residents. These vehicles can travel in the right-hand lane.

Other vehicles can take an alternative route along Phan Dinh Phung, Huynh Van Banh, Nguyen Van Troi, Nam Ky Khoi Nghia, Ly Chinh Thang , Hai Ba Trung, and across Kieu Bridge.

Vehicles will also be banned from entering Tran Huy Lieu Street in the section from Le Van Sy Street to Huynh Van Banh Street. Local residents may drive two-wheeled vehicles on the sidewalks.

The alternative route is Tran Huy Lieu to Huynh Van Banh to Le Van Sy.

Traffic will be restricted on Hoang Van Thu Street in the section from Cong Hoa Street to Nguyen Van Troi Street, Huynh Tan Phat Street from Nguyen Van Linh Street to Nguyen Thi Thap Street, and To Ngoc Van Street from Linh Dong Street to the round-about in front of Thu Duc Market.