The Ho Chi Minh City People's Committee has recommended measures to the Government for continuing to ward off recession and boost growth.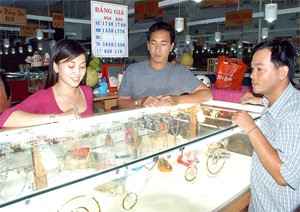 Shoppers at a jewelry outlet in Ho Chi Minh City (Photo: SGGP)
To increase direct tax revenue, it wants the Government to put off the date the Law on Individual Income Tax becomes effective from May 31 this year to January 1, 2010, and not offer tax breaks to people earning high incomes.
                          
The city also asked the Government not to reduce income tax for small and medium-sized enterprises engaged in certain businesses – like running restaurants, night clubs, and karaoke parlors, selling jewelry, leasing houses, and making alcohol, beer, cigarettes, automobiles, and large-capacity motorcycles.
 
They have been provided a 30 percent tax break since the fourth quarter of 2008.
 
The city said offering tax breaks to all businesses with a chartered capital of less than VND10 billion and fewer than 300 employees is too sweeping and affects tax revenues.
 
There are so many engaged in the restaurant and food industries that giving them tax breaks would make a dent in the budget, it warned.
 
The Government should allow enterprises that borrowed from banks last year when interest rates were sky-high to foreclose their loans so that they can borrow now at lower rates, it said.
 
The city also wanted the Government to reduce the number of peak hours when businesses have to pay higher power tariffs to help them reduce costs.