The People's Committee of HCM City has approved a five-year plan to promote cultivation of organic and safe vegetables.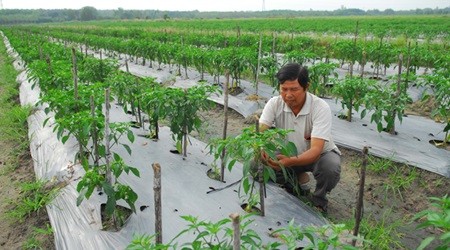 A farmer in HCM City cultivates clean vegetables following VietGAP standards in his 38-hectare farm. A five-year plan to promote cultivation of organic and safe vegetables has been approved by local authorities. (Photo: VNA/VNS)
Under the programme, by 2020 organic and safe vegetable farming areas will reach more than 16,000 hectares. Production value would be more than VND800 million (USVND806,586,000) per hectare.
The city aims to have 90 per cent of farmers and organisations growing vegetables and fruit to meet VietGAP standards.
The city has 91 communes cultivating vegetables in Cu Chi, Hoc Mon and Binh Chanh Districts.
By the end of 2015, vegetable areas had reached 15,800 hectares, with average productivity of 375,000 tonnes each year, an increase of 19 per cent and 33.7 per cent respectively in comparison with 2011.
At least 721 organisations and individuals have gained VietGAP certification on over 2,000 hectares.
The area has nearly doubled compared with the 2006-2010 period.
More than 90 per cent of farmer households have received safe-vegetable production certification from the Health Department.
Local authorities have provided low interest rate loans and launched promotion campaigns for safe vegetables, as well as attractive packaging designs.
High demand has forced farmers to use better methods to produce higher quality products under the VietGAP standard.
Despite these changes, the organic vegetable and fruit programme organised in the 2011-15 period had several weaknesses.
Because of urbanisation, the farmland to grow such produce has been insufficient.
The price for VietGAP standard-accredited vegetables has also been the same as produce without such standards.
In addition, many farmers who want to receive VietGAP certification cannot because their land is located outside the designated cultivation area for organic produce.
Another problem has been the lack of a completely reliable safe food supply chain, because the origin of some produce has been difficult to trace.
In the time ahead, HCM City will improve such limitations by increasing quality and productivity, and creating close connections among partners in the safe food supply chain.
In the 2016-2020 period, co-operatives taking part in the "organic and safe vegetable development programme" will receive VietGAP certification for all production.
Ninety per cent of their products will be sold via order contracts.
In addition, two cultivation areas will use the latest technology in a pilot programme before it is applied to a wider area.
To reach the target, local authorities will promote science and technology research, as well as transfer and application and improved State management of food hygiene.