The city's Market Management Unit has begun to carry out closer supervision of factories and markets to prevent counterfeiting, smuggling and the production of unhygienic foods as the end of the year approaches.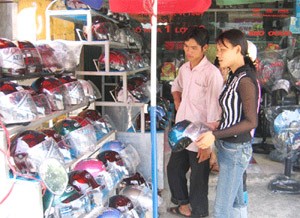 Helmet producers have to make helmets according to approved designs
The unit has plans to track down and punish individuals and enterprises that make or trade smuggled commodities, counterfeits and unhygienic foods since early June, said Nguyen The Thong, head of the unit.
 
Market management teams have been sent to 24 districts in the city, and four more teams have been on watch at the unit around-the-clock until after Tet in January, he added.
 
Not only shops will be checked, but also production places, Mr. Thong said. The unit will work closely with local agencies to tackle the duty strictly.
 
Any individuals or enterprises that try to avoid or refuse to work with the management teams, their commodities or factories will be sealed off, he added.
 
He called for producers and distributors of imported goods to provide the unit essential information at a very opportune time to facilitate monitoring the market.  
 
In reality, many violations have been prevented in time for individuals and enterprises had provided the unit with useful information, he added.
 
Violators will have their business license suspended temporarily or permanently depending on the level of the violation.
 
Imitations, counterfeits and the vehicles transporting them will be seized and kept. Within three months, if owners don't show legal papers for the commodities, the commodities will be destroyed.
 
There may be criminal proceedings for cases that involve big volumes.
 
At present, the unit is focusing on checking helmets and moon cake. They will confiscate those without clear documentation.
 
Stylized helmets cannot be made or sold as of Aug. 15, according to a new regulation. Helmet producers have to make helmets according to approved designs. Otherwise, their products will be confiscated and their workshops will be closed.
 
The unit will check food hygiene and safety at moon cake factories. Shops have to show legal selling prices and trademarks for their moon cakes. If selling prices are not reasonable, shops will have to close and their cakes will be confiscated.