Inspections, conducted by the HCMC Department of Labor, Invalids and Social Affairs, at 200 businesses that have foreigner workers revealed that just over 30 percent have signed contracts and are registered with the Department of Ministry and Trade.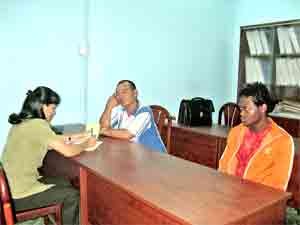 An African faces temporary detention at a police station after allegedly breaking the law
Preliminary reports indicate some 10,300 foreigners are currently working in the city. Among 3,063 foreign workers working at 3,063 representative offices, only 111 have registered their contracts.

Most foreign workers from other Asian countries including Korea and Taiwan work in leather, shoes and textiles, and printing companies, and receive an average monthly income from $300 -1,500.

Such an income is not great, so few employees are willing to register their contracts, if they are not forced to do so. This is seen as a measure not only for foreign workers but also for businesses that hire them to evade income taxes and reduce overheads.

At P.Y. Ltd. Co., in Binh Tan District, and the Shoe and Leather Company H.P., in Go Vap District, only 50 percent of foreign workers' contracts have been registered.

Although these companies have been known to create thousands of jobs for workers, they are also well known for alleged tax evasion by not having their foreign workers' contracts registered  with the Department of Labor, Invalids and Social Affairs.

Also according to the Department of Labor, Invalids and Social Affairs, for many years now, many foreign languages centers and semi-public schools in the city have signed contracts with backpackers to teach English.

It is very difficult to manage this workforce, said the Department, as no backpacker works for a long time at a language center or school.

The department also revealed that not all foreigners have the right qualifications for their jobs. Of 10,305 foreigners working in the city, only 89 have a PhD or Masters, 882 have Bachelors degrees, 625 are artists and craftsmen, with the remaining having no qualifications.

Similarly, foreign contractors on water environment improvement projects and some bridge and road projects have hired many unskilled foreign workers. Due to the unstable nature of the job, not many contractors have employment contracts with foreign workers.

The Department pointed out that it is almost impossible to fine foreign workers that do not register their employment contracts, as at present there is no regulation setting a time limit for them to do so after their employment contracts have been signed.

The loose management of foreign workforce leads to social nuisances.

Over the past two years, a number of footballers from African countries have entered the country to work for local football teams. They were later fired due to their poor playing skills.

After being dismissed, they work as unskilled workers. Some cannot find jobs and become criminals.

As a measure, Le Thanh Tam, director of the HCMC Department of Labor, Invalids and Social Affairs, proposed that relevant authorities should make regular inspections at businesses that hire foreign workers to make sure all employment contracts have been registered.

Regulations on heavy fines will be drafted for businesses that deliberately violate the law. Those foreigners that deliberately infringe the law again and again will be expelled from the country.

He added that the Department will cooperate with other relevant authorities, including the departments of Industry and Trade, Planning and Investment and Construction, to closely oversee businesses' policies on recruiting foreign workers after operation licenses have been granted.


As a measure to improve the management of foreign workers, the HCMC People's Committee has recently directed the police to check and impose heavy fines on foreigners who illegally enter the country or stay in the city without declaring temporary residence.

It also asks the police to crack down on foreigners who peddle or gather together on the pavements.

The Department of External Relations is entrusted with the task to report to related embassies or consulates on their citizens' violation of Vietnamese law.

The Department of Labor, Invalids and Social Affairs is requested to regularly inspect businesses that employ foreigners and report on violations, if any, to the police so that they can take appropriate disciplinary action.