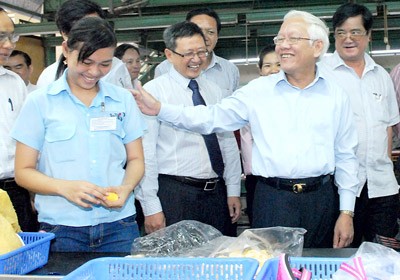 City's Chairman Le Hoang Quan visits workers at a shoes factory of Biti's on April 20, 2012.
Ho Chi Minh City authorities will asked the government to reduce business tax rate from 25 percent to 20 percent and defer tax payment of enterprises for three months, said city's Chairman Le Hoang Quan in a meeting with enterprises on Friday.
They also desired to be granted land for building house for workers.
Chairman Le Hoang Quan promised to request districts to review land funds and allocate land to companies for building worker houses, aiming at helping laborers stabilize their life.