Everyone should be able to enjoy a healthy and safe Lunar New Year in happiness and harmony without unnecessary expenses, said Chairman of the HCMC People's Committee Le Hoang Quan.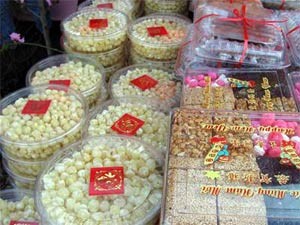 The demands of food and confectionery are expected to sharply surge on the upcoming Tet Holiday

Moreover, people from all walks of life, especially disadvantaged families, army personnel, workers and students should be taken care of in both their physical and spiritual lives.

The HCMC Department of Culture and Information in cooperation with local media agencies are responsible for promoting the brand new year, together with the celebration of the 78th anniversary of the Viet Nam Communist Party and the 40th anniversary of the Mau Than General Offensive in 1968 with the main focus on the fight against waste.

The city's leader also urged the Head of the HCMC Department of Labor, War Invalid and Social Affairs and relevant officials to pay more attention to the well-being of workers in local industrial and export processing zones.

Local business should also make careful preparations to meet the increasing demands of goods and services on the upcoming Tet Holiday. To all organizations and agencies, the use of public funds for celebration parties or buying gifts is strictly prohibited, Chairman Quan added.