A new action plan on environmental protection for Ho Chi Minh City next year has been developed with the total budget of VND927 billion (about US$57.9 million), according to the HCMC People's Committee.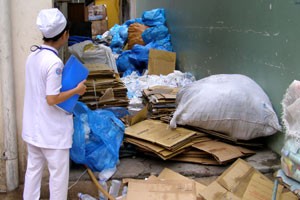 Medical waste collected in a local hospital

With an aim to improve the city's environmental sanitation, health and living conditions, the committee listed its major tasks for next year.

They include carrying out frequent checks on local environmental quality, promoting environmental protection projects, closely following instructions on environmental policies from relevant agencies and officials.

In related news, city authorities have decided to grant permission to local hospitals to recycle non-hazardous medical waste.

Accordingly, the hospitals will be responsible for the classification and treatment of medical waste.

The HCMC Health Department and the Department of Natural Resources and Environment will be in charge of establishing regulations regarding what is safe for reuse and giving technical instructions to the waste treatment.

According to the World Health Organization (WHO), about 85 percent of medical waste is categorized as non-contagious, ten percent as contagious and the remaining five percent as non-contagious but hazardous, especially plastic waste containing chloride.