Tan Thuan Industrial Promotion Company is joining hand with the Dubai's DP World Company to carry out a project to set up a container terminal called Central Container Terminal of Sai Gon at the Hiep Phuoc Industrial Zone of Nha Be Suburban District.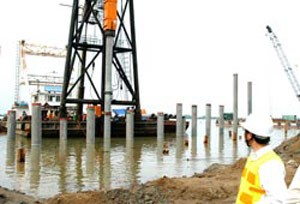 The Central Container Terminal
The expected cost is up to US$360 million for the ongoing project.  
The container terminal will locate on a 40 hectares area with a wharf of 950 meters long.  
The container terminal can provide 10 cranes for loading and unloading of which annual total expected capacity is about 1.8 million Twenty-Foot Equivalent Units (TEU). 
The project also includes a minority project which is dredging the bed of Soai Rap River, a branch of the river network Sai Gon – Dong Nai and between two suburban districts Can Gio and Nha Be. The minority project would clear the waterway at the Soai Rap River and allow the huge ships of which capacity is around 50,000-70,000 tons to land the new container terminal, said the operators. 
The operators expected to finish the first stage of the project before May 2009 and provide a wharf of 500 meters long with a capacity of 1 million TEU per year.