A plan to encourage the public to travel by bus was submitted by the Department of Transport and Communication. The campaign will start on Sept. 1.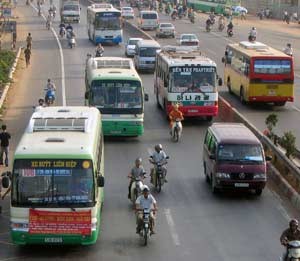 If the city has 1 million more bus users, it will save US$300,000 worth of fuel for travel a day
Sai Gon Giai Phong interviewed Mr. Duong Hong Thanh, deputy director of the department about the feasibility of the campaign.
Reporter: Is this right time for the department to submit the plan to the city authorities?
Mr. Thanh: Fuel prices recently increased by 36 percent, leading a rise in travel costs, which is estimated to account for 13 percent of total income by city residents. So if the city has 1 million more bus users, it will save VND5 billion (US$300,000) worth of fuel for travel a day and contribute to easing traffic jams and environmental pollution. Using buses for travel is a also way to cut down on spending and help restrain the inflation.   
Q: The most important requirement by users of buses is punctuality. But it is not likely that buses will meet that demand. What is your comment on this?
A: Indeed! It is now too difficult to meet that demand, since a lot of roadwork will not be complete until 2010. But if the long-term plan is not started sooner, the traffic may get worse in the meantime. To help buses operate punctually, we are make a plan to create lanes for buses only and will send the plan to the authorities for consideration. To make the plan a success, our department needs assistance from relevant agencies and the local government.  But the foremost prerequisite is the sympathy and support from the public.
Q: What sort of sympathy do you need from the public?
A: For example, buses may not be punctual when they run on routes where roadbeds are narrowed by construction works. In that case, bus users should accept it and leave home to go to work a bit earlier and get home from work a bit later. If more than 1 million people everyday is added to the current number of bus users, the total expense on travel by the city's residents will be reduced by about VND1.9 billion (US$110,000) per year. 
Q: At its current capacity, how many passengers could the city's bus system serve per day? How is a roadmap for the plan?
A: The city now has 3,200 buses operating on 150 routes and the number of bus users is about 1 million a day. If operating at full capacity, the system will be able to serve more than 2 million people. From Sept. 1 to Dec. 31, the campaign will encourage some classes of people to use buses or non-engine vehicles for travel at least one day a week. After Jan 1, the campaign will be expanded to all the people of the city.
Free bus tickets for civil servants
The city's Department of Transport and Communication will seek funding from the city-based businesses and organizations to provide free bus tickets for civil servants so that they can use bus at least once a week during the first month of the campaign. The total spending on free tickets is estimated at VND6.9 – 9 billion (US$42,000 –US$54,000). The department will coordinate with the districts' authorities to set up free parking for motorbike for passengers.