Ho Chi Minh City will spend VND412 billion on stabilizing prices of nine essential food items from April 1, 2011 until after lunar New Year (Tet) 2012.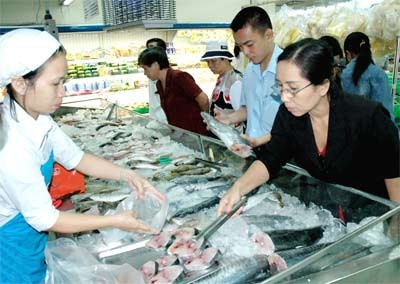 Shoppers check out seafood at a supermarket in Ho Chi Minh City. Seafood is a new addition to the list of the price stabilization program this year (Photo: SGGP).
Nguyen Thi Hong, vice chairperson of the HCMC People's Committee, made the statement on March 23 after discussions with relevant agencies and departments.
 
She planned to launch a much more flexible mechanism of price stabilization than 2010.  
 
Le Ngoc Dao, deputy director of the city's Industry and Trade Department, said there would be nine price-stabilized goods this year, while it was eight in 2010.
 
These include rice, sugar, cooking oil, red meat, poultry, poultry eggs, processed foods, fruits and vegetables, and seafood. Seafood is a new addition to the list of the stabilization program this year.

All these goods will be 10 percent lower than market prices.

Some luxury foods like beef sausage are no longer included in the program this year.
 
The volume of these goods will increase by 20-25 percent of the city's consumption in normal months but by 30-40 percent in January 2012, during the Tet season.
 
This year's program will also see a rise of VND32.6 billion in stabilization funds over last year.
 
Besides the 14 enterprises that attended the price stabilization program in 2010, eight new enterprises have registered to participate in the program this year.
 
Ms. Hong said that to create favourable conditions for enterprises to take the initiative in their production and for businesses to provide stable supply of goods, the city would provide interest-free loans to participating companies for 12 months.
 
With flexible price management, the participating companies will set the selling price and register the price with the Finance Ministry.
 
If prices of input materials increase by 15 percent compared to the registered selling price, companies can raise their selling price.
 
Conversely, if market prices drop by 5 percent, they will have to lower their selling price accordingly.