The People's Committee of Ho Chi Minh City has instructed the Investment and Construction Board of the Thu Thiem New Urban Area to complete resettlement of households latest by June this year.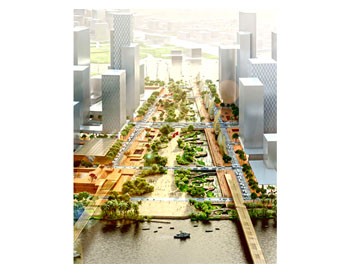 An artist's impression of the Thu Thiem New Urban Area (Source: SGGP)
Accordingly, the board must coordinate with authorities of District 2 to relocate all remaining households and organisations to a new resettlement area by June.
However, relocating of relic foundations from the site will be permitted to continue until December this year.
The People's Committee has also ordered the authorities in District 2 and relevant companies to complete construction of 12,500 apartments for resettlers of the new urban area, by the end of 2013.
According to the Thu Thiem New Urban Area Management Board, over 98 per cent of the site clearance work has been completed.