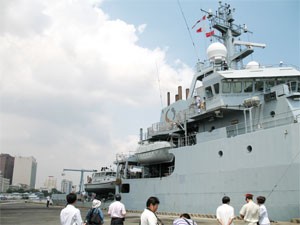 HMS Echo securely moored at Saigon Port (Photo: Tuong Thuy)
British sailors in dress uniform stood to attention on the deck of HMS Echo on Saturday when the Royal Navy survey vessel was welcomed at Saigon Port on day one of a six-day goodwill visit.
Their flag rippled in the breeze from the Saigon River and the red carpet was rolled out. Commander Jeremy Churcher greeted the British Consul General, Ms. Deborah Clarke, and Mr. Le Hung Quoc, first deputy director of the Foreign Affairs Office in Ho Chi Minh City. Representatives of the Vietnamese Navy were also in attendance.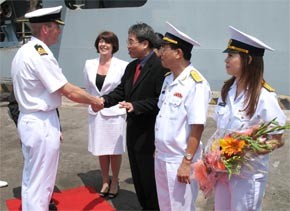 Commander Jeremy Churcher is greeted by Mr. Le Hung Quoc from the Foreign Affairs Office (Photo: Tuong Thuy)
Over the next few days about 50 crew members are seeing the sights of Ho Chi Minh City and engaging in various activities with a charitable theme.

On their first afternoon, they went to Cu Chi on the city's outskirts to see the famous tunnels used by guerilla fighters in the war, and to the city of My Tho in the Mekong Delta.

On Sunday afternoon they will play host to the Saigon Children's Charity with a tour of the ship then travel to Thong Nhat Stadium for a friendly game of football with a local team.

The following afternoon Commander Churcher is scheduled to lay a wreath at Ho Chi Minh's statue in front of City Hall, and on Tuesday many of the crew members will be taking a bunch of children to Dam Sen Park for a few hours of fun.

Tours of the ship will be available on Wednesday.
HMS Echo is "equipped with modern sensors capable of collecting data from every element of the marine environment," to quote the publicity spiel.

It has a mixed male and female crew of 72 personnel though only 48 are on board at any one time. The ship displaces 3,600 tons and measures 90.6 meters in length and 16.8 meters abeam. It does not carry a helicopter.
The Echo's arrival came just a few days after 'Vietnam Days in London' was held in the British capital to promote Viet Nam, its culture and its investment opportunities.
Related article
British Vessel Visits Ho Chi Minh City