This Christmas brings much pleasure to Ho Chi Minh City dwellers with the weather getting cooler at the moment. The city is in a good festive mood.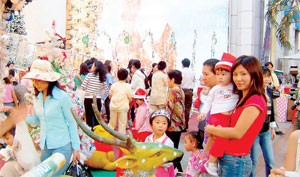 City people go shopping for Christmas

In and around the Notre Dame Cathedral and main streets, sparkling lights and beautifully decorated pines give the city an attractive look. And you can attend the evening praying session in the cathedral.

At the foot of Saigon Center building, people gather to see and take photos with the stone cave, reindeers and Santa Claus. The shops along the Hai Ba Trung Street are displaying an abundance of Christmas gifts, pines, dummy reindeers and Santas.

On Pham Ngu Lao Street, usually known as the area of expats, many foreigners are busy buying gifts and decorations. A student from Korea said: "As I see, Christmas is not only the day for Catholics and Protestants in Viet Nam. It is for everyone, and that makes the difference".

This year, Catholic parishioners seem more excited with their preparations for Christmas and a new year. They have made a lot of stone caves, ornaments and such months before the best time of the year.