The 9th congress of the Vietnam Fatherland Front (VFF) of Ho Chi Minh City opened May 11. The congress lasts until May 12, with 412 delegates and guests discussing policies for 2009-2014.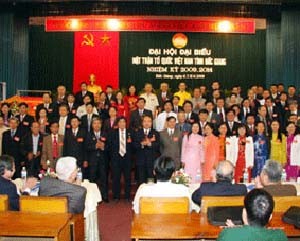 Delegates at the 9th congress of the Vietnam Fatherland Front of HCMC on May 11 (Photo: Cong an newspaper)
The congress will concentrate on discussing and contributing ideas for national unity and results of programs from the previous five-year term.
Delegates at the congress said that in the last term, the VFF had successfully mobilized people to participate in social and economic programs in the city, broadened national unity and strengthened the role and position of the VFF.
The VFF's policies have proven to have practical applications, with a great response from citizens, delegates said.
Policies to help disadvantaged people have helped to reduce hunger and improve poor living conditions.
Many delegates, however, said that the VFF's supervision of central and local authorities, which implement government policies, needs to be improved in order to meet people's needs.
The struggle against corruption, waste and bureaucratic red-tape has not achieved good results. Coordination between the VFF and its member organizations, departments and local authorities still has a lot of limitations.
At the first meeting, the VFF elected ten people for the steering committee and 13 honorary deputy presidents and seven deputy presidents.
Duong Quan Ha, member of the HCM City Party's Standing Committee, has been chosen to act as the city's VFF president this term.