Ho Chi Minh City notched up industrial production value of VND95,172 billion in the first nine months of the year, up 13.5 percent on the corresponding period of 2005 compared to a national increase of 16.8 percent in the period.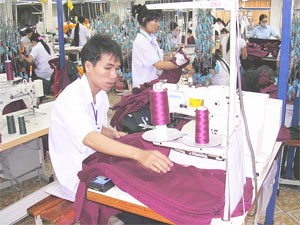 Workers of Nha Be Garment Joint-Stock Company

Deputy Minister of Industry Bui Xuan Khu met with the HCMC Department of Industry recently to discuss the city's relatively poor growth in this regard and ways to boost industry in the rest of 2006.

Last year, Ho Chi Minh City employed 19.85 percent of the country's industrial workforce and contributed 22.24 percent of the national industrial production value, higher than anywhere else in Viet Nam.

Explaining the city's low industrial growth rate this year, some business owners blamed the equitization of state-owned enterprises and the cost and disruption of relocating polluting factories.

Nguyen Dinh Truong, general director of Viet Tien Garment Co., said the company's production value had only grown by 12 percent because Viet Tien was busy equitizing 40 percent of its units and building six factories outside Ho Chi Minh City, the latter costing VND200 billion.

Furthermore, illegal imports and counterfeit-brand goods were flooding the market, imperiling domestic producers. Brewing and dairy production were stretched beyond capacity and needed yet more expansion.

The chemical industry, however, is still growing strongly and has a growth rate of 23.7 percent this year.

Ho Chi Minh City has set an industrial production growth target of 17.5 percent for the final quarter of 2006.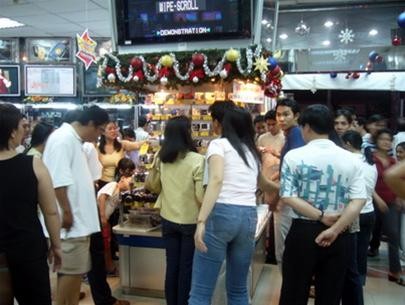 City dwellers tends to consume more for the year-end months (Photo: VietnamNet)
Mr. Khu suggested the city's enterprises expand their production and focus on the domestic market and its millions of low-income earners.

He said they should promote trade and maintain export growth as well as improve their distribution systems as part of a campaign to penetrate the distribution networks of transnational corporations.

They should keep looking for new markets and business opportunities, and build up their brands in order to sell more of their products here and abroad, he added.

Many business managers proposed that the city grant land to relocating companies so that they could resume production.

They added that the authorities at the city and provincial level should keep a close watch on imports to prevent counterfeit and shoddy goods from entering Viet Nam.

And they said the electricity sector should be prepared to maintain power supplies to producers in the dry season.