Ho Chi Minh City's Party Executive Committee started a congress on Monday, focusing on reviewing the city's socio-economic development and discussing measures to carry out next year's tasks.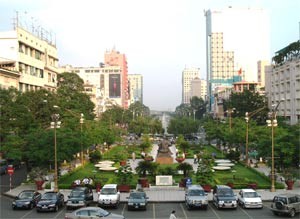 A view of the park in front of the City Hall (Photo: Tuong Thuy)
A report by the Ho Chi Minh City People's Committee to the Party Executive Committee mentions good results in socio-economic development.
The metropolis's GDP is forecast to grow by 12.2%, including 6.7% from the service sector and 5.41% from industry and construction. The service sector has enjoyed a 13.2% growth year-on-year, higher than any of other sectors.
Regarding economic sectors, the State sector has grown by 9.1%, the private sector 14%, and foreign enterprises as a whole 13.1%.
Foreign direct investment inflows into the city have soared by 2.3 times year-on-year. Especially, Intel, the world's largest chipmaker, has increased its investment to US $1.04 billion.
Besides the good results, the report says enterprises are still weak in global competition in terms of price, product quality, distribution, prestige and brand name.
Another notice is the five major industrial fields – food, footwear, garment, chemical and textiles – are almost labor-extensive. In addition, production size of the city's 25 key products is still small.
Regarding next year, the report's suggested GDP growth is 12.2-12.5%. Others are a 15% increase in total export revenue (excluding crude oil), 18.4% rise in total investment, bringing jobs to 250,000 people (including 110,000 new jobs), reducing the unemployment rate and poverty rate to less than 5.6%, and raising the clean water use rate to 87%.