The Ho Chi Minh City People's Committee will launch another urban beautification initiative, two years after it launched a campaign to create a more "civilized" urban atmosphere that has made residents to behave in a more friendly manner towards each other and city's streets cleaner and more beautiful.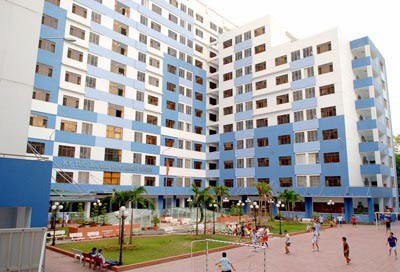 A building block of the Poly-Technique Univeristy dormitory in Ho Chi Minh City. Such modern buildings make the city more beautiful and civilized as the campaign wants to achieve (Photo: SGGP)
The city government launched the campaign that aimed to inspire people to obey traffic laws, protect the environment and lead a "civilized urban lifestyle" in 2008.
In 2009, the program cleaned up and beautified 12 roads that are now free of rubbish and have clear sidewalks for pedestrians. District administrations also recognized 15 markets for their high "commercial etiquette"; 14 hospitals for their "medical ethics", and 13 dormitories for their "cultured students."
The 2010 campaign would ban six "unacceptable" behaviors in the public places, organizers said, without going into detail. New fines for breaking city laws will be implemented in line with the program.
The campaign to keep the city clean received a good response from residents. The HCMC People's Committee and People's Council worked hard together to make the campaign successful.
Scientists also offered suggestions to improve the campaign. More than 300 proposed measures have been sent to the campaign managing board and the local media is raising awareness.
In response to the campaign, thousands of garbage cans and hundreds of public toilets have been set up across the city. The streets are cleaner and now less cluttered as street vendors have been relegated to certain areas.