Authorized organizations should not only pay attention to opinions from experts about planning, compensation and site clearance in urban development but also from residents, said delegates at the closing ceremony of forum on climate change on July 14, which opened July 12 in Ho Chi Minh City.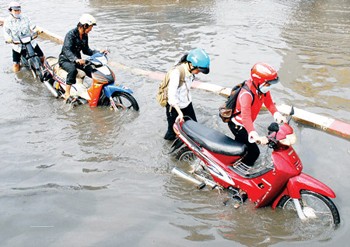 Climate change is one of main reasons for the exaggerated tides HCMC has been experiencing (Photo:SGGP)
The city People's Committee and the Pacific Rim Council on Urban Development (PRCUD) held the forum titled, "Urban Planning and development to adapt and mitigate climate changes".
In compassion to other cities in the Southeast Asia, HCMC lacks a mechanism of financial assistance and a responsible organization for urban planning and development.
Several other delegates proposed that city authorities should soon dredge polluted canals and develop waterway traffic within the city in order to attract tourists and improve socioeconomic conditions.
HCMC People's Committee deputy chairman Nguyen Trung Tin said that opinions of domestic and foreign experts expressed at the forum would help the city to complete an overall plan for urban development that aims to cope with and adapt to climate change. 
The opinions offered by experts will also create grounds for the city to draft an overall plan for the city's socioeconomic development for the next 50-100 years and beyond.