"Happy market sessions" is a program being organized by three agencies of the city to sell high-quality, low priced goods to workers to help them cope increased prices.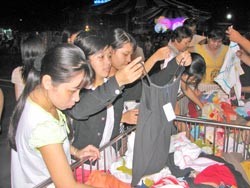 Workers buy goods at a "happy market session"

The organizers of the program are the Workers Supporting Fund, the Communist Youth League's Young Workers Assistance Center, and the Communist Youth Organization of the Industrial Parks and Export Processing Zones.
"Happy market sessions" have been conducted four times so far, attracting a lot of workers across the city.
Tran Thanh Son, a marketing officer at Thuan Phat Food Company, said his company provides essential commodities including soy sauce, fish sauce, and soya cheese each market-day at prices that are 20-30 percent lower than market prices.
"Offering such low prices, our company aims to support workers, not make profits," he said.
The Thanh Cong Textile and Garment Company offers more than 3,000 garment products at 30-50 percent off for workers. Binh Tan Consumer Goods Production Company (Bita's) supplies footwear at 10-40 percent off.
Pharmaceutical firm Phamedic gave workers a reduction of 20-30 percent in the price of medicines. Those who buy medicines worth VND20,000 (US$6) or more will have a chance to get a gift, such as a raincoat or medicated oil, through a lottery drawing.
Van Thanh Production and Trading Co. sells pillows and blankets to workers and gives gifts via lottery drawing to buyers of more than VND200,000 (US$12) worth of goods.
Higher price reductions for some certain products are offered by Dai Khoa Production and Trading Company (50 - 60 percent) and Foci Fashion (90 percent).
"Petrol prices are up, leading to a rise in prices of series of commodities, said Lam Phuong Trinh, a worker at Datow Company. "Today, there are quality goods here, so I buy a lot for future use."
"Garments here are good and cheap, so I buy them for all my family," said Ho Thi Kim Cuc, a worker for Tan Nguyen Phat Company. Holding a gas cooker in hands, Cuc said, "I have paid only VND99,000 [US$6] for it. It is of high quality, but is some VND20,000 [US$1.20] cheaper than in market prices."
Tran Minh Trong, the director of the city's Workers Supporting Fund, said that the companies taking part in "happy market sessions" are the ones recognized as "Producers of Vietnamese high quality goods". They need not pay any fee to participate in these sessions. The number of such businesses has increased to 26 from 14 in the first session.
"From now until the end of November, such sessions will be conducted at some industrial parks, including Tan Binh, Tan Thoi Hiep. Linh Trung 1 and Linh Trung 2," he said, adding that the organizers are calling on more businesses to take part in "happy market sessions" to help relieve workers' burdens and reduce the high cost of living.