Construction of pedestrian flyovers in Ho Chi Minh City, at a cost of VND1-2 billion each, has proved totally ineffective, as most people prefer to interweave between moving traffic to cross the street.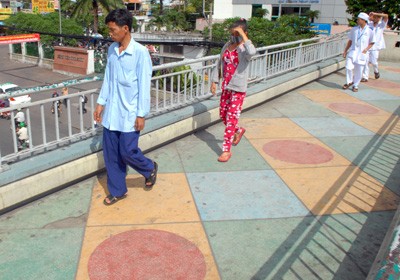 Few people use the flyover to cross No Trang Long Street in Binh Thanh District of HCMC (Photo: SGGP)
Commuters on Monday morning were seen interweaving between moving traffic to cross No Trang Long Street in front of Gia Dinh Hospital, instead of making use of the flyover nearby.
The flyover in front of Tu Du Hospital on Cong Quynh Street is regarded as the most modern in HCMC. Built to serve as a link between two of the hospital buildings which lie on opposite sides of the road, it is rarely used with most people choosing to cross the street instead, to save time.
 
Some residents said that the flyover is not conveniently located, as it is designed to lead straight to the first floor of the hospital's new building, which is still under construction.
Meantime, several people are using the flyover in front of Suoi Tien Cultural Park to cross the Hanoi Highway. However, it is being misused by several vendors and fortune tellers, stairs are littered with garbage, discouraging people to walk on it.
 
Other pedestrian flyovers in Nguyen Trai, Dien Bien Phu, Hoang Van Thu and Le Hong Phong streets are in a similar state.
Traffic experts said that residents still have a habit to cross the street on foot, finding it quicker, than to walk across a flyover. Besides, flyovers have been built at inconvenient locations and of little use for most people.
Van Thanh Crossroad on Dien Bien Phu Street is in an area where there is no need for a flyover and people can cross the road easily.
Le Toan, deputy director of the Department of Transport said that   flyovers are useful in serving pedestrians in front of hospitals, where it is usually very crowded. However, residents stick to old habits and continue to cross the street. Hence the department plans to set up a fence along roads to force people to use flyovers.
The most important is to increase residents' awareness in using flyovers to cross streets, Mr. Toan added.