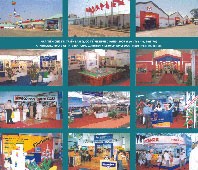 Photos of VietBuild contest held in Ha Noi early this year
The photography contest "VietBuild – The beauty of life 2006" for professional and non-professional photographers will be held by the organizing committee of VietBuild, an international exhibition on construction, building materials and housing, and the HCMC Photography Association.


Photos of architectural works, statuary, interior decoration, housing trading and development that promote the role of the construction sector and improve the quality of life are encouraged at the contest.
All contesting color and black-and-white photos must be publicized for the first time, and will be sent to the HCMC Photography Association in 122 Suong Nguyet Anh Street, District 1. The deadline for entries is August 11, 2006.