Many enterprises under the Price Subsidized Program prefer to focus on convenience stores, in the hope of changing traditional shopping habits of the Vietnamese people.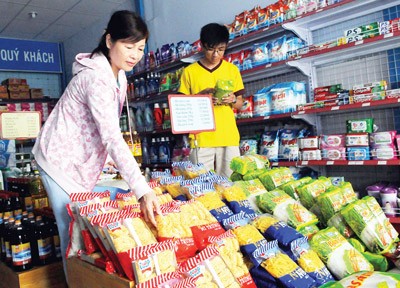 At convenience store of Saigon Co.op in Phan Dinh Phung Street in Phu Nhuan District (Photo: SGGP)
There are two kinds of convenience stores in the country-- stores for just food items or for other consumer commodities. Domestic firms rule in the first kind.

Saigon Co-op was first established on December 27, 2008 at Phan Van Tri Condominium in District 5 and until now, has expanded upto 61 stores in the City.
Co-op stores are very popular with consumers, especially in fresh food items.

After its establishment, Saigon Co-op targeted working women who need to look after their homes as well  after work. They need to buy fresh and safe food items  for quick and easy cooking at home, as traditional markets cannot  satisfy this requirement.

Later, Saigon Co-op in coordination with the Women's Union and Youth Communist Union took the Price Subsidized Program to distant and remote districts.

The City has seen the growth of more convenience stores of SatraFoods since 2011 and Vissan has expanded to now 130 stores and plans to sell 50 percent of its own products.  Until now, SatraFoods has 22 convenience stores  in HCMC.

Nguyen Thanh Nhan, Deputy Head of Saigon Co-op, said since convenience stores need a smaller area and can locate in residential blocks;  these easily attract lots of consumers.  Convenience store chains have seen 100 percent growth.

However, Saigon Co-op, SatraFoods and Vissan all said they are facing difficulties in finding premises. In addition, firms have to pay for premise rents and décor if in suburban districts, resulting in long payback period and low profits that discourage companies to enter the field.