An increasing number of children are suffering from respiratory problems, including asthma and bronchitis, because of Ho Chi Minh City's current cool spell, according to health experts.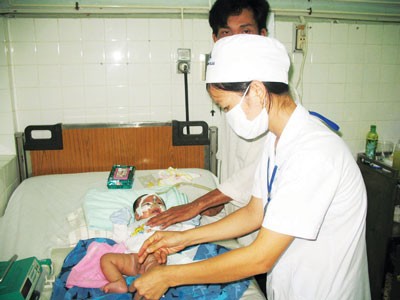 The influx of respiratory children in Pediatrics Hospital No.2 makes nurses overloaded with work (Photo:SGGP)
On December 22, Pediatrics Hospital No.2 in Ho Chi Minh City was flooded with anxious parents of children with respiratory diseases. The influx meant nurses in the Respiratory Department are run off their feet.
HCMC is expected to experience more cold weather, with nighttime temperatures falling as low as 17 degrees Celsius. Over the past week, the minimum temperature has been 20 degrees for several nights in a row.
The average temperature range in HCMC in December is 22 to 31 degrees.
The Pediatrics Hospital No.2 has been admitting 30 sick children a day and examining more than 200 children with respiratory problems, according to Dr. Dang Thi Kim Huyen, deputy head of the department. Children from HCMC account for more than 70 percent of patients.
A similar situation has been reported at HCMC's Pediatrics Hospital No. 1. Since winter began in November, the hospital has provided treatment and examination for approximately 141,712 kids, the majority of whom are suffering from asthma and bronchitis.
From now to end of December, the cooler weather is conducive to an increase in the number of the respiratory patients, forecast by Dr. Nguyen Thanh Hung, deputy director of the hospital.
Health experts said HCMC's polluted air and cooler weather was contributing to increasing numbers of respiratory patients, especially asthma-sufferers. To prevent such disease, doctors have advised parents to ensure their children have a healthy diet and are kept warm at night. Asthma patients should follow their doctor's advice and avoid potential asthma attack triggers, such as dog and cat hair and dust.