Doctors at the city's public central hospitals, including Children's Hospital No. 1, Children's Hospital No. 2, the Tumor Hospital, and Orthopedic Hospital complain they admit more patients than they can take care of. The Tumor Hospital has signed a contract with private Vu Anh International Hospital in District Go Vap in a bid to reduce the pressure on public hospitals. The contract can be used as model for other hospitals.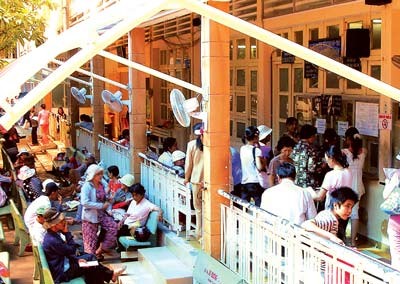 So many patients are receiving treatment at Tumour Hospital that doctors complain about work overload
The Ho Chi Minh City Tumor Hospital admits more than 1,600 patients per week. Patients from the provinces account for half of this number, so the hospital placed beds outside rooms.
The hospital's managing board and its 950 medical staff members have tried to resolve the overload, but their efforts so far have not been successful.
Since April, the staff has started word at 6 a.m. and patients wait according to numbers given out be a machine, said the hospital director Dr. Le Hoang Minh. The result of these measures is satisfactory, but many patients still have to wait for a long time, Dr. Minh said.
A good model of cooperation model has arisen from these unresolved difficulties. Under the memorandum of understanding between the Tumor Hospital and Vu Anh Hopital, doctors from Tumor Hospital will train those in the new hospital's tumors department.
This cooperation was highly praised by doctors at a meeting of the city's Department of Health. Other private hospitals can join the game. Dr. Nguyen Van Chau, director of city's Department of Health, promised to provide help hospitals implement more such cooperation agreements.