The massive overspending by the city government in 2005 was the big topic of discussion at the Ho Chi Minh City People's Council on Thursday.
Last year the city overspent its budget by 66.4%, according to a People's Committee report delivered on day one of the three-day session.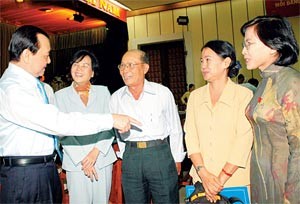 Ho Chi Minh City Party chief Le Thanh Hai (L) and People's Council chairwoman Pham Phuong Thao (R) talk to city residents on Thursday (Photo: SGGP)
Mr. Nguyen Minh Hoang, head of the council's economic and budget board, made the obvious point that the city should improve its budgetary management.
"From next year, the People's Committee needs to get the Department of Planning and Investment to report annually about the economic effectiveness of State-funded projects, and it must ask the Department of Finance to report on the effectiveness of State investment," Mr. Hoang said.
"And the People's Committee needs to report regularly to the People's Council about its use of budget funds," he added.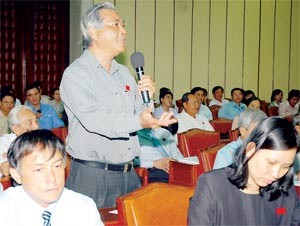 A councilor demands answers. (Photo: SGGP)
Many councilors criticized the overspending and wondered how it could have happened as the council had already approved the budget for that year.
Councilor Cao Van Phan singled out the expenditure on cultural activities and pointed out that these activities had been planned well beforehand so their true cost should have been known in advance.
He suggested that overspending be regulated and recommended that council approval be sought if any item in the budget looked likely to cost extra.
Ms. Nguyen Thi Hong, vice chairwoman of the People's Committee, blamed unforeseen circumstances for many of the higher costs incurred last year.
Council chairwoman Pham Phuong Thao said the People's Committee needed to report the city's debts to the councilors. After all, she said, the Vietnamese government must report the nation's debts to the National Assembly on a regular basis.
As day one drew to a close, the council agreed on three measures. First, it will ask the Vietnamese Government "for a special financial mechanism for Ho Chi Minh City to maintain its high economic growth and continue being a growth engine for the whole nation."
Second, training will be provided to the councilors so that they might better understand budgeting.
Third, the People's Committee must observe the law as it applies to public expenditure.
Council chairwoman Thao also recommended that the People's Committee submit the annual list of projects in need of investment to the council as soon as possible so that the councilors could have enough time to examine the list properly and make appropriate and realistic budget decisions. 
Besides members of the public, the non-council members attending day one of the three-day session included Mr. Le Thanh Hai, the city's Party chief, and Mr. Le Hoang Quan, chairman of the People's Committee.