Cracks have been visible in the walls of apartment 1.14 at Flora Anh Dao apartment block, Do Xuan Hop street, Ho Chi Minh City's District 9 after the project's investor handed over the apartment to a customer in June.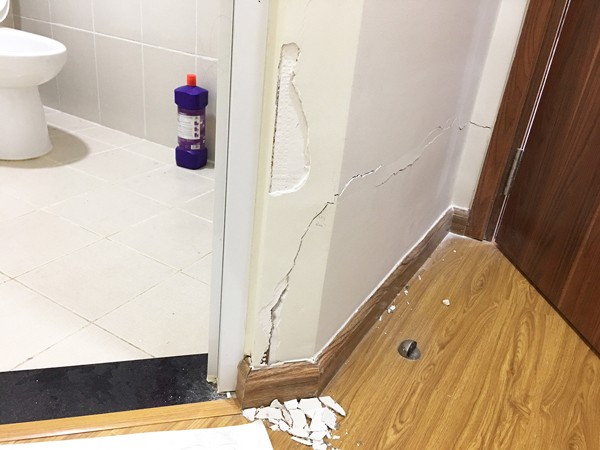 The crack in the wall of Ms. Hong's apartment (Photo: SGGP)
Owner of the apartment Nguyen Thi Phuong Hong said that she signed contract with the investor to buy the 59.39 square meter apartment in November last year at the price of VND1.2 billion ($54,000).
The investor said that the 16 storey project comprises 500 apartments meeting Japanese quality standards and it has received an award for the best apartment quality in Vietnam.
In March, investor Nguyen Phuc Real Estate Company said that the project was attended by two Japanese investors Hankyu Realty and Nishi Nippon Railroad who had bought 50 percent shares of the company.
Ms. Hong said that when receiving the apartment in June, she saw tiny and unclear cracks and reported the situation to the investor, who then repaired the cracks.
A month after moving in the apartment, Ms. Hong found visible cracks occur and broaden.
The project's contractor An Phong, supervisor Delta and investor Nguyen Phuc, a subsidiary of Nam Long Investment Corporation, and the Southern Building Science and Technology Sub-Institute have surveyed the apartment.
In a letter to Ms. Hong on September 23, director general of Nguyen Phuc Company Nguyen Ngoc Huyen, announced the survey's conclusion, saying that the cracks have occurred in room dividers not load bearing walls. That proves the apartment buildings' safety.
In addition, the company promised to repair the apartment and arrange another accommodation for her during the repair time.
However, she has not accepted the above solution and asked the investor to bring out reasons of the cracks and make clear if they recur after repair. Her requirement has not been responded.
Contractor An Phong has proposed to purchase the apartment at a price which is VND634 million ($28,000) higher than the amount Ms. Hong paid formerly, she told.

In return, the company asked her to keep the case's information secret and not to buy any other apartment of the project, she revealed. Still, she refused the proposal and filed a complaint to the HCMC Department of Construction on October 10.
The agency has sent a document to Nguyen Phuc Company asking it to quickly repair the cracks, report reasons of the cracks as well as solutions to remedy them and negotiations with the apartment's owner.
The company has been asked to consider assisting Ms. Hong in case long lasting repair affects her daily life. However, it has showed no sign in response to the requirements.