After two years in practice, e-customs in Ho Chi Minh City has achieved modest initial results. It needs a lot of improvement to become an effective tool to boost the economy's development.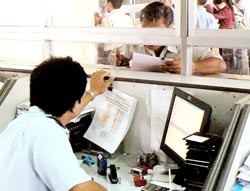 E-customs needs a lot of improvements to become more effective.
A few large firms use e-declarations
Over the past two years, the city's E-Customs Sub-Department has received and processed more than 67,500 declarations, an average of 130 declarations per day.
E-customs declarations accounted for only 1 percent of the total number of declarations. Tax revenue from e-customs declarations represents just 7 percent of the total customs revenue. Currently, only 237 businesses use e-customs.
The city authorities, the Customs Department and many businesses greatly appreciate e-customs as it helps importers and exporters save time and money while clearing their goods.
However, the sub-department admits that the current model of e-customs has some weaknesses. It has yet to be connected to trade organizations, state agencies such as ministries, tax offices, banks, or relevant service organizations.
Most customs supervision systems at ports are cumbersome. Their operations have not yet been computerized and therefore e-supervision for goods clearance is hard to apply. This limitation has lessened the efficiency of e-customs and made it less attractive to businesses.
The out-of-date technical infrastructure at the Customs Department's Center for Database and Information Technology and the data collection process do not meet the requirements of e-customs transactions.
The businesses that make e-declarations "are big companies with a large quantity of imported and exported goods," said Nguyen Thanh Long, deputy head of the sub-department. "These companies pay a large amount of tax and their turnover accounts for more than 10 percent of the total turnover of all businesses dealing with the city's Customs Department."
Mr. Long added this situation is similar to what is seen in customs declaration in some other countries.
Department to offer more services   

E-customs is considered a tool to simplify customs formalities, thereby helping businesses save time and money in making customs clearance, facilitating trade activities and boosting the economic growth of the country.
  
To make e-customs more effective, the city's Customs Department has mapped out an e-customs development plan for next two years.
The plan will focus on developing various customs services, such as customs declarations, e-database provisions, warehousing, and e-confirmation between customs offices and businesses, Mr. Long said.
The plan will also be centered on building customs information infrastructure, improving the quality of human resources, strengthening customs-business dialogues, and providing more assistance for importers and exporters.