A Danish delegation of 11 companies held a conference on March 31 to explore business opportunities and meet potential partners in the urban water and wastewater treatment sector in Ho Chi Minh City.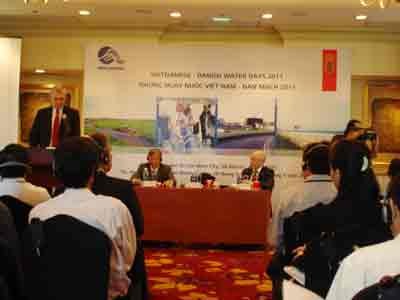 Danish Ambassador John Nielsen speak at the meeting (Photo: U.Phuong)
The delegation is in Vietnam from March 28 to April 1 to meet potential partners in the urban water and wastewater treatment sector in Hanoi and Ho Chi Minh City for the one-week Vietnamese –Danish Water Day 2011.
The Danish companies including AVK International A/S, Danfoss, Grundfos, DanAqua, Grontmij/ Carl Bro and Danish Water Forum discussed the various solutions that can contribute to a more sustainable development in the water sector in Vietnam.
With its rapid socio-economic development, Vietnam is experiencing strong pressure on its natural resources and the environment. The loss of tap water in the major cities of the country is close to 40 percent due to widespread leakage from an outdated pipeline system. Untreated wastewater in many places is causing pollution of rivers, water systems and the environment.
Meanwhile in Denmark, the domestic water consumption has reduced by 35 percent over the last two decades and the loss of water from the supply network is only 7 percent, which is a near world record. In order to achieve these results, Danish companies have developed a number of innovative services and products in the water sector and are well known for being climate friendly and energy efficient having low operating costs.
Moreover, Denmark has been supporting the water sector in Vietnam for more than a decade. The current Danish support for the water sector began in 2006, amounting to US$66 million. The objective has been to improve the health and living conditions of rural people, especially the very poor by providing clean water, sanitation, hygiene promotion and protection of the environment.
Attended the meeting were Danish Ambassador John Nielsen and Tran Quang Phuong, director of the HCMC Department of Transport along with representatives from relevant institutes, donors, financial institutes and some Danish and Vietnamese companies working in the water sector.