The last session of the year of the Ho Chi Minh City People's Council [local legislature] was very hot this morning as members argued about solutions to traffic congestion.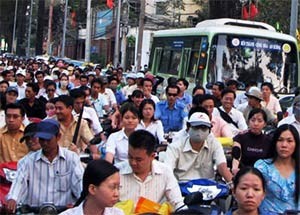 A familiar scene in dowtown Ho Chi Minh City these days
Unlike previous sessions when members pressed the director of the Department of Transportation and Public Works with critical questions, this time members sought solutions to congestion.
Deputy Vo Van Sen affirmed congestion is caused by too many motorbikes and called for "a fight against motorbikes".
"When the city has a subway system, inhabitants will travel by subway only on its first day, out of curiosity. Then they'll go back to motorbikes. So we have to fight against motorbikes", said Sen.
However Deputy Pham Minh Tri protested Sen's opinion, "Motorbikes have no fault. They are the most important means of transport for people as long as public transport has not met their needs", he said.
Pham Minh Tri said floods caused by tides and rains prove people cannot ban Gods from making rain and he rejected the fight against motorbikes, largely on the same grounds as Tri.
Agreeing with Tri, Deputy Nguyen Van Hien said, "Congestion is caused not only by motorbikes, but also by cars and buses", and suggested inadequate researched new one-way streets are now much to blame and many should be reverted to two-way.
Most deputies agreed traffic jams are due to lack of vision and the relaxation of municipal management for too long a time. They asked city leaders to provide more confident projections of the traffic situation for the next 10 years.
The deputies approved a few purportedly long-term solutions for congestion, including staggering school and office hours, building a subway system, improving buses and widening roads, and the urged the city People's Committee to be prompt in implementing projects to provide six metro lines, and stop merely arguing about congestion and shifting blame onto each other.