Ho Chi Minh City should limit the number of motorcycles and private cars on its roads, urban experts said at a seminar on public transport December 24.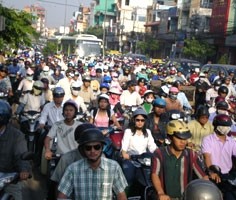 Numerous motorcycles are often seen in the streets in HCMC
It should make public transport more efficient and friendly so that people feel comfortable and eager to use it, they said.
They suggested ways to limit the use of motorcycles and other private vehicles – like stopping import of motorbikes, increasing petrol prices, slapping an environmental tax, and prohibiting parking in the downtown area.
Tran Quang Phuong, director of the city Department of Transport, said more than 1.2 million people travel by bus every day.
But this number is still small, he added, blaming it on the poor infrastructure and public transport network.
Dr Pham Xuan Mai of HCMC University of Technology blamed motorcycles for causing traffic gridlocks in the city.
He estimated at 14.3 trillion (US$842 million) the wastage every year due to dependence on  motorcycles and the resulting traffic jam, fuel consumption, accidents, and others.