The East-West Highway project is making progress, as promised to the Ho Chi Minh City People's Committee and sponsors, deputy director of the Management Board of East-West Highway and HCMC Water Environment Projects, Vuong Hoang Thanh told SGGP Feb 16.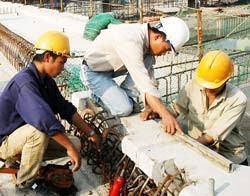 Workers on construction site of Cha Va Bridge which is expected to be open to traffic on National Reunification Day, April 30. (Photo: SGGP)
Excluding Khanh Hoi Bridge, which opened to traffic January 24, the other bridges over Ben Nghe Canal, including Calmette, Chu Y and Cha Va will be finished for National Unity Day, April 30, Thanh said.
Calmette Bridge is two spans of two bridgeheads away from completion. Chu Y Bridge needs the last span to connect to Nguyen Bieu Street. Cha Va Bridge is 90 percent done.
The overpass in Binh Chanh District, Nuoc Len, Rach Cay and Lo Gom bridges in District 5 and 6, and the part of East-West Highway that leads from District 1 to Binh Chanh District are expected to be open to traffic by National Day, September 2.
Kenh so 1, Kenh so 2, Ca Tre Lon and Ca Tre Nho bridges will be half complete come  September 2.
The District 2 section will be finished by the end of this year.
The Australian company, Connel Wagner, has given its opinion on the cracks in Thu Thiem Tunnel. It said that the cracks could be repaired by pumping glue into them, with a covering of a waterproof layer on the tunnel as the Japanese contractor, Obayashi Corporation, proposed when cracks started to appear.
The Cat Lai roundabout will take longer than planned, as a bridge that connects the roundabout with Rach Chiec Sports Center has been added to the project.
The management board has asked to add this bridge to another project as District 2 People's Committee has not finished compensation claims for clearing the area.