A fictional character called Mr. Otis Safety and employees of the Otis Elevator Company presented 621 helmets to students at Hoa Mai Pre-School in Ho Chi Minh City's District 3 early this month.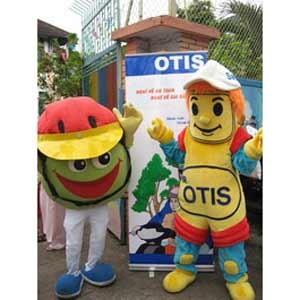 Mr. Otis Safety (R) and friend giving children at Hoa Mai Preschool a lesson on traffic safety (Photo: AIP)
The visit by Mr. Otis Safety is part of the Asia Injury Prevention Foundation's (AIP) "Helmets for Kids" project which aims to address the epidemic of child deaths on Vietnam's roads since 2000.

During the visit, Mr. Otis Safety taught children about the importance of wearing helmets when riding with parents on streets.

The organizers of the project recognized that most schools in Vietnam were not built with traffic safety in mind. Schools are often located on busy streets with high traffic flows.

Most schools don't have parking lots or side lanes for parents to use to wait while the drop off and collect their children. The widespread construction work around HCMC also often presents difficulties for parents ferrying their children to and from school.

Hoa Mai Preschool is on the Truong Dinh – Dien Bien Phu crossroad, which has some unfinished construction work and regular traffic jams.

AIP Executive Director, Mrs. Mirijam Sidik said: "Our project does not only target the children, their parents and teachers but we also hope to spread the traffic safety concept more widely through world-of-mouth. We expect that more and more people here can recognize the importance of protecting children with helmets."

In addition to lessons about helmets and their importance, Mr. Otis Safety also presented some interesting short lessons about using elevators and escalators safely.

Mr. Otis Safety is a friendly mascot designed by the Otis Company and used in their worldwide traffic safety awareness campaigns.

Wearing motorbike helmets became compulsory in Vietnam in December 2007.