A Government stimulus package to boost agriculture, including subsidized loans for farmers, has failed to help as many farmers struggle to access the loans.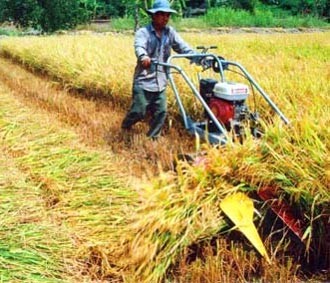 Among 162 harvesters are bought but only 42 harvesters are supported by subsidized loans, according to a report by Can Tho Agriculture Industry.
Currently, 13 Tra catfish breeding households in Tien Gang Province, out of 90, have received loans of VND34 billion, while Tien Giang Agribank was ready to lend VND400-500 billion.
Agribank did not sign credit agreements with many breeders, as it is considered a risky business and only loaned money to those with supply contracts. 
According to Le Thanh Dung, head of the Hoa Hung tra fish breeding co-operative, among 26 members of the co-operative, only one member has received a loan with four percent interest.
Mr. Dung said this was because many breeders still had not paid off previous loans, but in order to access the subsidized loans they have to first pay those debts off.
To pay the debt, the members need to borrow money with higher rates of interest, he added.
Tran Van Tao, from Cai Lay District, has been breeding tra fish for five years on his 8,000 square meter farm. He was initially glad to hear about the Government loans, but the bank refused his application as he did not have a supply contract.
He is caught in a trap, as no company has signed a contract with him because he needs to develop his farm but cannot access funds in order to do so.  
Thousands of fish breeders in Go Cong also suffer from the same problem, as they do not have any security to back up loans.
The issue also is common in the sugpo prawn breeding area in Ca Mau, where 90 percent of breeders already have much higher interest loans backed by their property.
In the past time, the bank tightened lending to farmers as breeders faced many risks, debt expanded and was hard to recoup, said Kieu Manh Minh, director of Agribank.
He said the relationship between the bank and famers must be based on ability to repay, as a matter of economic principle.
The bank will not help unless breeders can resolve the repayment issues, he added.
Many rice farmers in the Mekong Delta also face difficulties accessing subsidized loans in order to purchase modern machinery and improve productivity.
According to a report by Can Tho Agriculture Industry, 162 harvesters were bought but only 40 were supported by subsidized loans.
Can Tho City has implemented the Government's economic package of supporting loans to buy machinery, equipment and construction materials in rural areas. However, there is no agreement between the banks and the authorities.
Many farmers and breeders will continue to struggle as they pay back loans with higher rates of interest.