"On behalf of all readers of the newspaper, I'd like to express our great appreciation for your acts of bravery," said actress Kim Cuong, online, to Mai Van Luyen, Mai Thanh Phong and Tran Quang Thang, who rescued 36 people in the deadly ferry incident on Gianh River in Quang Binh on January 25.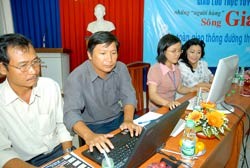 Director of Local Waterway Management

comments online with SGGP readers
The online discussion between the heroes and readers was organized by Sai Gon Giai Phong yesterday afternoon. Also participating in the discussion were Le Hoang Minh, director of the Local Waterway Management of HCMC Department of Transport, Nguyen Van Trung, Director of HCMC S.O.S Village and Tran Quang Thang's mother and wife.

Mai Van Luyen recalled, "On the fatal morning of the last day of the previous lunar year, I together with my son Phong and two nephews, Thang and Hoan, were transporting logs on the river."
"Suddenly," said Luyen,  we heard shouts for help and hundreds of hands reaching up in the middle of the stream, I immediately pushed the logs from the boat down into the water for victims to cling onto. While I was on the boat, trying to keep it from drifting away, my son and nephews jumped into the water to rescue them."

After rescuing 22 victims, Luyen sailed the victims to the river bank while Phong, Hoan and Thang remained diving for more victims. On the second trip, they managed to rescue another 14 victims.

Confiding with SGGP readers online, Luyen said, "After the rescue, we were all exhausted. At the time, I simply thought that saving 36 victims was a masterstroke for all of us as we didn't know the exact number of passengers on the ferry. But when I was told that the number of passengers on board was 78, I felt very regretful. Perhaps, we could have rescued a few more victims if we have had tried a bit harder."

Thang's wife, Hoang Thi Thien, said that until now, she is still overcome with fear whenever her thoughts flash back to the incident. Thien said, "That day, my husband got home just after New Year's Eve. Although, he did phone me earlier to let me know that he would be home late because he had to rescue drowning passengers, I was extremely anxious for his safety."

Having no house, Thang and his wife and their 18- month old baby have to live in a small boat. Every day, Thang earns between VND 15,000 -20,000 by helping Mai Van Luyen, his cousin, to transport wood.

Thang said that after the incident, he had received a lot of certificates of merit from the government from all levels and, and stuck them on the wall of the hold on his boat.

Though poor, when asked if he was given a wish, what would he wish for, Thang said that he would not wish for wealth or a house for his family, but a bridge for all the villagers living on both sides of the river.

The director of the Local Waterway Management, Le Hoang Minh, said that the HCM City has 41 wharfs, all are licensed, but the local waterway traffic regulations do not require passengers to wear life-jackets.

As a measure to protect passengers' lives, since 2006 the Local Waterway Management has cooperated with local authorities to allocate life-jackets to boat owners and appeal to passengers to wear life-jackets while traveling.

Minh also suggested that if a passenger finds a ferry is substandard, do not take it, but immediately contact the Local Waterway Management on the phone number 3 8368196 or Team 2 of Waterway Inspection at 3 9500809.

Nguyen Van Trung, director of the HCMC S.O.S Village, a children's home, said that 243 of its children in Go Vap District raised VND12 million to help the children whose mothers had died in the wreck.

Luyen, Thang and Phong on behalf of the children of Go Vap District S.O.S village, will take the proceeds to Quang Hai Commune to buy milk, notebooks and medicine for the children.
Trung added that HCM S.O.S Village is ready to adopt the orphans.