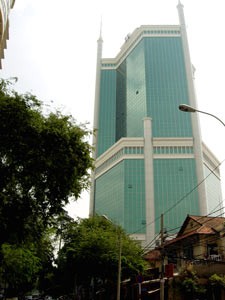 Sai Gon Trade Center (Photo: T.C)
A fire swept through the 33-storey Sai Gon Trade Center in Ton Duc Thang Street on Tuesday afternoon. Luckily, nobody was injured.
The fire broke out in the building where more than 300 people were working. Within a few minutes, police had managed to evacuate the area and firefighters had to spend more than an hour putting out the flames.
Hundreds of people from the office building escaped using the staircases after the emergency shutdown of the center's elevators.
The fire started at a tissue warehouse on the first floor of the building and an investigation into the cause is underway. No damage statistics have been released yet.