Five foreigners have passed examinations to attend MA and Ph.D. courses at the Ho Chi Minh City University of Social Sciences and Humanities, the university has announced.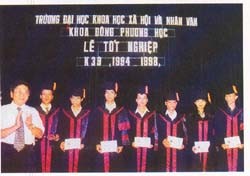 A graduation ceremony at the university
Four of them are qualified for MA programs in Asian studies, culture, and philosophy, while the other will pursue a Ph.D. in linguistics.
As for the 2006-07 academic year, the university took in 335 students for 16 majors of MA level and 38 students for 10 majors of Ph.D.
Besides, four students have been qualified for pursuing an MA degree abroad and three for a Ph.D. degree overseas with State budget.
In the 2005-06 academic year, the university issued 183 MA and 20 Ph.D. certificates. The postgraduates included a foreigner getting an MA degree in Vietnamese literature, and two foreigners obtaining Ph.D. degrees in ethnology and linguistics.