The jury of the Ho Chi Minh City Youth Union's "Young Citizens of the City 2008" award held a final vote on December 23 and selected five winners.
The awards aim to honor young people who display exemplary character or who contribute to the development of the city. The five winners were Tran Tuan Anh, Nguyen Thi Hoai Nam, Nguyen Ngoc Minh Thao, Tran Mai Thuy Hong and Le Thanh Tam.
The jury decided the five, who come from different walks of life, demonstrated the kind of qualities that will win the hearts of people in their communities.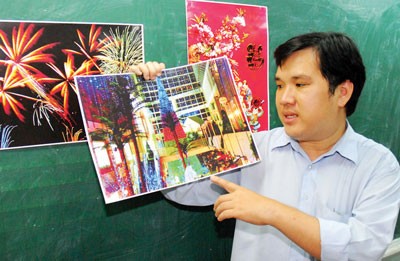 Teacher Tran Tuan Anh uses colorful photographs to make his citizenship education class more interesting (Photo:SGGP)
Tran Mai Thuy Hong, a small but determined girl and a former judo athlete, is committed to supporting and uplifting the confidence of the disabled by teaching martial arts.
She won various medals at national and international judo competitions, including a gold medal at the National Judo Contest and a bronze medal at the Southeast Asian Games in 1998 in Singapore.
When her competitive career wrapped up, Hong became a student at HCMC University of Pedagogy, majoring in physical education. In 2003, Hong was selected by the Tan Binh District's Sports and Culture Center to participate in a short-term course in Malaysia on how to teach judo to the blind.
Hong accepted an invitation from the city Department of Gymnastics, part of the Youth Union, to provide martial arts training to disadvantaged people.
Initially, she the classes were difficult because Hong's students included hearing-impaired children, blind children, children with epilepsy and children with Downs' Syndrome. To ensure all her students understand the lessons, she talks loudly to describe martial arts positions and adjusts each of them individually.
Her efforts were rewarded on the day her student, Trieu Thi Nhoi, was named a member of Vietnam's Olympic 2008 Paralympics Games team.  Being selected for an international sporting event is the dream of all her students, who strive to overcome their disabilities to live a normal life.
Another young citizen of this year is Tran Tuan Anh, a teacher at Bach Dang Junior School in District 3. He turns citizenship education lessons – usually considered a dry and boring subject – into interesting ones.
He spent his own money on pictures to illustrate the lessons. For instance, to teach students how to live in a simple way, he used the photo of street children or beggars to show some people in society struggle to earn money.
In another lesson on the sacrifices parents make for their children, he showed photos of elderly ladies carrying heavy goods along the streets and elderly men in sweat-soaked shirts riding cyclos. The photos proved very moving for his students. The young teacher plans to invite "role models" who have done good deeds and made significant contributions to society to address his students.
Award-winner Le Thanh Tam is a young policeman who has acquired a good deal of merit through the apprehension of drug traffickers in Binh Thanh District.
Nguyen Thi Hoai Nam won her award after she this year became the first Vietnamese female to conquer Everest Mountain.
Nguyen Ngoc Minh Thao, who works in Tan Phu Electricity Station, won his award for his initiatives to improve safety and productivity.
City leaders will participate in the prize-giving ceremony on the first day of 2009 at the Youth Culture House in Pham Ngoc Thach Street in District 1.