At meeting on the current flooding situation in Ho Chi Minh City's urban areas held by the Vietnamese Fatherland Front's Standing Committee recently, participants aksed Department of Communications and Public Works to give deadline for ending flooding situation in urban areas.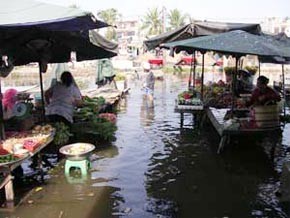 Flooding hit Me Coc market in District 8, Ho Chi Minh City.
Tran Dinh Phu, Deputy Director of the Ho Chi Minh City Department of Communications and Public Works quoted some primary reasons for flooding in Ho Chi Minh City as an increase in tide and heavy rain, especially rainfall over the past several years and the outdated drainage systems.

Besides, the city's urban infrastructure management is not effectively administered and most major water drainage projects, with official development assistance (ODA) fund, have just kicked off recently, he added.
Building works is usually not coordinated with establishment conditions and operation principles pertaining to floods. That makes cities more likely to be flooded. Apart from that, urbanization has changed natural geographical situations causing erosion.
However, according to Mr. Phu, the city's authorities have been paying less attention to the city planning and geographical locations during restructuring and developing the urban projects.

In particular, since 2001, Ho Chi Minh City needed VND2,000 billion a year to construct and renovate its water inlet sluice systems while the department's current budget for these drainage projects is around VND400 billion, accounting for only 20% of the required investment.
However, Mr. Phu expressed his belief at the meeting: "The flooding situation of the city's urban areas would be improved from now until the competition of the current ODA projects. By the end of 2008, flooding in Ho Chi Minh City's central areas will be basically improved, especially after the canal Tan Hoa-Lo Gom is successfully dredged and renovated."
According to Dr Ho Phi Long from the Ho Chi Minh University of Polytechnic, instant cure for flooding is that the city must be determined to clear sites of canals and riversides where many residents have illegally encroached.
Also, the establishment of water drainage works must be accomplished comprehensively, under the clear and adequate instruction of the Ho Chi Minh City Department of Communications and Public Works, he added.
Recently, the city's People's Committee assigned its lower administrative levels to give top fund priorities to water drainage, flood prevention projects. More importantly, related agencies and authorities have to map out optimal solutions during urbanization as well as speed up the canals and rivers dredging, new drainage systems installation and old ones improvement to effectively curb flooding in urban centers.
Ho Chi Minh City's specialized water pipe system is around 926 kilometer length, ending in only 27 drainage canals. Thus, the system, which can drain water merely in the inner city, meets only 10% of the entire city's demand for water drainage. To January, 2006, there have been 105 flooding points in the entire city. Experts predicted that some southeastern areas of the city will be strongly hit by flooding due to the fast urbanization, low terrains, and nearby filled canals.