Ho Chi Minh City needs to carry out drastic measures to tackle worsening floods, Secretary of the municipal Party Committee Le Thanh Hai declared on October 26.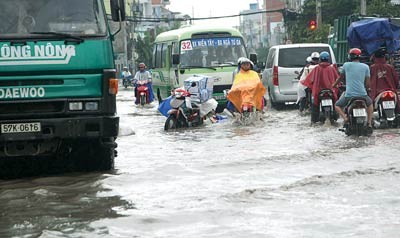 Many streets in District 11 are flooded after heavy downpours. (Photo: SGGP)
At a meeting on the Party Central Committee's resolution on climate change resilience, natural resource management and environment protection, he said that fast urbanisation and poor underground water management has greatly increased the risk posed top the city by floodwater.
Hai asked the municipal People's Committee to check construction planning in the locality in order to enforce strict punishments against badly performing managers and planners.
He also ordered relevant agencies to spend an adequate proportion of the 2014 development investment capital for urgent flooding prevention work.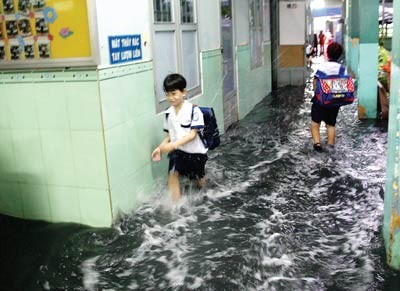 Pupils wade in the water at Hoa Binh Elementary School. (Photo: SGGP)
In mid-October, the flood tide submerged 19 places in HCM City in 0.1 – 0.44m of water. It reached the record height of 1.68m on October 20.
Le Thi Xuan Lan from the Southern Regional Hydro-Meteorological Centre said that the flood tide level in HCM City has continuously risen since 2006, a pattern clearly linked to the impact of climate change.