To be able to enjoy authentic Cambodian cuisine in Ho Chi Minh City, one simply needs to walk down an alley between Flower Market Ho Thi Ky and Le Hong Phong Market, an area termed popularly as 'Cambodian Market'.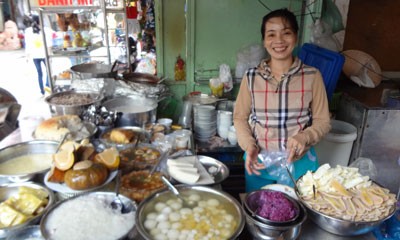 Sweet soup in the Cambodian Market (Photo:SGGP)
Ho Chi Minh City is not just the nation's economic hub but also a 'salad bowl' to receive immigrants who choose the City as a place to eke out a living and eventually to settle down in.
These immigrants bring with them a diversity of cultures, traditions and cuisine tastes of their native lands.

This popular 'Cambodian Market' has around 200 businesses; most of them are of Vietnamese-Cambodian descent. 
Locals in the alley say that in 1970 when the political crisis caused an upheaval in Phnom Penh many immigrated to Vietnam and chose the alley to live and started their own home trade which then has continued from father to son.

The market is in a long and narrow alley and is always crowded. Dried fish from Tonlé Sap is very famous here and price fluctuates from VND600,000 to VND1 million, and is often even sold out. The market also sells medication oils, metal and stone jewelry.

However, a large range of foods like 'Che' (sweet soup) attracts people the most. Sweet soups are mostly cooked with Thot Not (coconut palm) sugar and durian. A bowl of sweet soup costs VND10,000-12,000.
When it comes to Cambodian cuisine, one has to mention Nubuchok. In HCMC, only one store owned by Tu Xe sells this dish. Tu Xe, a Cambodian woman, said she moved to HCMC and set up the restaurant 40 years ago, adding that people arrive at the restaurant not only to eat but also to talk to their fellow-countrymen to ease homesickness for their native country.