Four persons drowned after a boat carrying eight people overturned on the Giong Ong To River in District 2 of Ho Chi Minh City on Friday.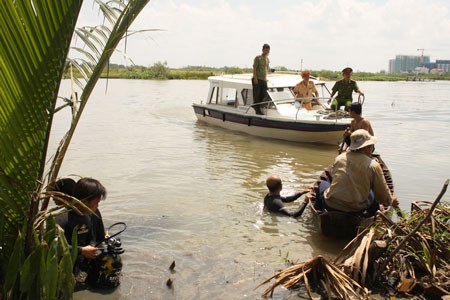 Rescue forces pull out bodies of four victims from the Giong Ong To River in District 2 of HCMC on April 13 (Photo: SGGP)
At 9am, Nguyen Thi Xuan rowed her boat from Binh Trung Tay Ward to transport seven people, including four children, to An Phu Ward, on the opposite bank of the river, to watch a musical programme and worship at the Phu Hoa Temple.
Mid stream, strong winds swayed the boat furiously until it overturned. All the eight people were swept with the current.
 
On being informed about the accident, the District 2 police rushed to look for the victims, and by noon of the same day, they recovered the bodies of four of the victims, namely, Nguyen Thi Luom, 45, Nguyen Thanh Tam, 12, Nguyen Thanh Thao, 10, Nguyen Kim Quyen, 13 months.
Local residents said that during the third month of lunar year, many people cross the river to watch musical programmes and worship at the Phu Hoa Temple.
By road it is quite far and takes a lot of time, while it is quicker to cross the river, a distance of only 40-50 metres. Thus, many local people opt to travel by boat.
After the accident, local authorities offered each victim's family VND10 million. Nguyen Thi Quyet Tam, chairwoman of the City People's Council also went to condole the bereaved families and offered another VND10 million to each family.
She instructed local authorities to implement measures to prevent similar accidents from occurring, especially during the coming rainy season.
According to the Department of Transport, HCMC has nearly 60 wharfs operating without licences.