French experts on Monday worked with the Saigon Water Supply Corporation (Sawaco) to fix the problem of contaminated tap water in Ho Chi Minh City.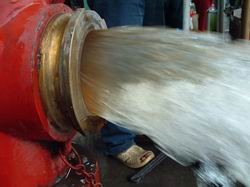 Dirty water is really a vexing problem to city dwellers  (Photo: VietnamNet)
They made an inspection tour to Hoa Phu pumping station and Tan Hiep water plant.
French experts will leave the city after a week; earlier, they had sent questions relating the causes of muddy water and the water supply system of Ho Chi Minh City as well as solutions of Sawaco to overcome the problem.
Furthermore, they will collect several more samples of muddy water for further tests.
Sawaco hoped the research will soon find a solution to the problem.