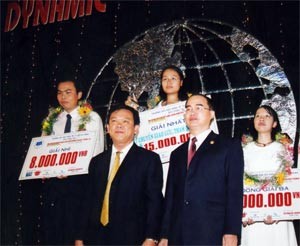 Minister of Education Nguyen Thien Nhan (R) at the last competition's awarding ceremony.
The Ho Chi Minh City University of Economics has just announced the entry requirements for the eighth annual "Future Entrepreneurs" competition for 2007.
Over 10,000 students from 70 universities are expected to take part in the contest.
The competition focuses on significant features of the international socio-economic situation and the general features of Viet Nam's socio-economic situation since 2005.
Students are required to present both their basic and advanced knowledge of economics and business administration in spoken and written Vietnamese and English.
Four grand prizes will be awarded entitling the winners to a trip to the United States where they will exchange their knowledge with their student counterparts there.
The competition, jointly financed by Vietnam Pepsico, the Eastern Commercial Bank and the Kinh Do Joint – Stock Company, will be organized into four rounds at five different venues in Ha Noi, Ho Chi Minh City, the Mekong River delta, central Viet Nam and the central highlands.