Rivers and canals in Ho Chi Minh City are becoming increasingly more inefficient and redundant in their function to release floodwaters after heavy rains as the water pipes are choked with silt, alluvial soil and garbage, causing floodwaters to overflow onto streets and residential areas.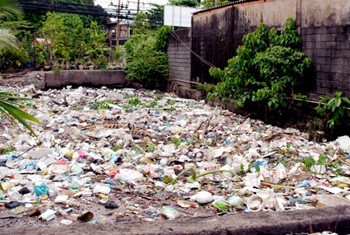 Garbage chokes the Tham Luong Canal in Tan Binh District, HCMC (Photo: SGGP)
The river bed in District 12 is full of alluvial soil that impedes the water flow, resulting in regular traffic congestion along the Vam Thuat River and Ben Cat-Tham Luong Canal in An Phu Dong Ward. Under the Tan Hoa Bridge the land has been so raised with collected alluvial soil that people can walk on it.
Local residents living on either banks or those on boats, pollute the rivers and canals even further by dumping all their waste into the water.
 
Household waste and algae covers most of the water surface of Den Canal and Tan Hoa-Lo Gom Canal in Binh Tan and district 6. This causes the canal water to overflow into residential areas.
According to the Department of Natural Resources and Environment, about 200 tons of household waste is discarded into canals and rivers of the city every day.
Despite knowing of this problem, the city has done little to clean or dredge the rivers and canals. So far only two amongst several projects proposed by the Department of Transport have been financed. A few ongoing dredging projects are being perfunctorily conducted due to lack of funds or difficulties in site clearance.
Nguyen Trung Viet from the environment department said that earlier the city spent an annual budget in districts to remove garbage and dredge canals and rivers. Ever since the city stopped funding these projects a few years ago, district authorities have lacked motivation in continuing the work.