What liberation soldiers and political prisoners in southern Vietnam cooked and ate during the country's Resistance War were showed to visitors, students and current soldiers at the War Remnants Museum in HCM City Tuesday.

The presentation, co-organized by the museum and the city's Department of Culture, Sports and Tourism, aimed to help the guests know about how the revolutionists made food to survive during the resistance process, said museum director Huynh Ngoc Van.
"Our guests today can get insight into skills to prepare dishes that are delicious, tasty, and simple to make in conformity with the circumstances of the country's resistance for independence and freedom," she added.
Ten people who were the cooks during the wartime illustrated how to make dishes and food for the soldiers, political prisoners and conscripted laborers to survive and fight.
These foods included boiled cassava, rice balls, grilled snake-head fish or shrimp, glutinous rice cakes, dried fried rice, pyramid-shaped patties, dried fried banana skin, and peanuts roasted with salt.
Snake-head fish grilled in the southern style is a very common dish that is typical for the south because of its popularity, delicious taste and simplicity to cook.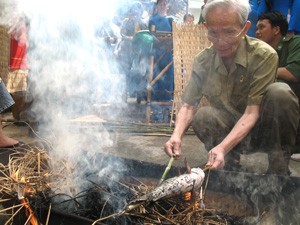 Former soldier Le Ky Quang grills a snake-head fish in the southern style on June 7, 2011 at the War Remnants Museum (Photo: Tuong Thuy)
Former soldier Le Ky Quang performed how to make it. After cleaning the fish, he used a bamboo stick to stab through its mouth to the tail. He then grilled it on the thatch fire until it was cooked.
Some foreign visitors to the museum on Tuesday morning joined the event, saying they enjoyed the food prepared at site.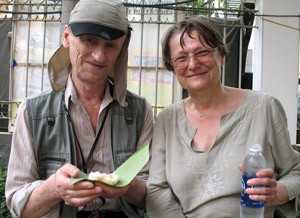 Two Polish tourists try boiled cassava served in the cooking gathering at the War Remnants Museum on June 7, 2011 (Photo: Tuong Thuy)
Former guerillas Nguyen Thi Khoi and Pham Thi Nang made rice balls served with salt and pepper. "It's easy to make this food and easy to take with you in combat," said Ms. Khoi. She added this rice could last for three or four days, and you just use your fingers to eat.
Ms. Le Thi Lien served the guests with her boiled cassava seasoned by salt-and-sugar sesame. She said cassava was a main foodstuff during the wartime, and the soldiers ate it with either salt-and-sugar sesame or salt-and-sugar peanut.
In addition, boiled cassava was ground and mixed with sugar, green been and coconut milk to make delicious pies, she added.
The War Remnants Museum on Vo Van Tan Street in District 3 primarily contains exhibits relating to the American phase of the Vietnam War.