Woman's Day is a great occasion to show your love and affection for the woman in your life, be it a mother, sister, wife, daughter or a friend. Arrays of beautiful gifts are filling the market for this special day. There are flowers, jewellery, beautiful greeting cards and countless other goodies for you to choose.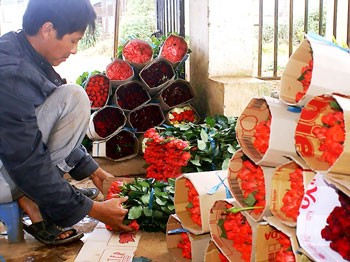 Fresh flowers for Women's Day. (Photo: Sggp)
The market has seen a 10-20 percent increase in flowers. Ho Thi Ky and Dam Sen wholesale flower markets in districts 10 and 11 have received a vast variety of various kinds of flowers for this year's international woman's day.

Roses cost from VND3, 500-6,000 a stem, a bunch of Eustoma grandiflora flowers cost VND30, 000-35,000 and a bouquet of lilies and orchids cost VND110, 000-120,000.

Many Ao dai making fabric shops on Hai Ba Trung, Tran Quoc Toan and Thu Khoa Huan streets in District 1 are attracting many customers.

Jewellery companies including PNJ, DOJI, SBJ and SJC have also launched their latest collections.
Vinatex Mart supermarket is offering a discount of 40 percent on local clothing brands. 

The Co-op Mart chain has launched a big promotion of a 40 per cent discount on 300 items like cloths, household appliances and gifts.

Thien Hoa Electric appliances Center is also offering a discount titled "March-Thanks to roses".